Welcome
My name is Sam Skay and I am a professional freelance graphic and web designer. Located in Central Minnesota, but offering services nationwide, I provide a wide range of graphic and web design solutions. Weather you are looking for a simple business card or a fresh new website on a powerful CMS platform, I'm here to make you look good. My work is 100% custom. No templates. Everything is created as unique as the stars in the skay [sky].
"Sam did an amazing job of designing my business cards. He listened to my needs and provided me with an exceptional product. Not only was I impressed by his ability to create a unique set of design options to choose from, but his affordability and timeliness. Sam goes above and beyond to make his clients happy. Sam insisted on delivering my cards rather than sending them to me. This personal touch was very much appreciated and speaks to his client-centered business. I highly recommend Sam's design talents as well as his excellent customer-friendly experience."
- Chris N. | Kaleidoscope Charter School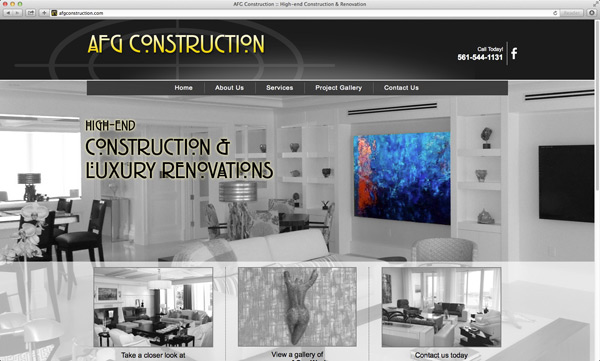 I am proud to announce the launch of the all new AFG Construction website. The new site features client testimonials, a project photo gallery, and is responsive.
Based in Boca Raton, AFG Construction specializes in High-End Construction and luxury renovations.
Check them out today at www.afgconstruction.com.